Our Partners
healthie™, our technology platform, considers the
needs of the patient, patient advocacy, medical and scientific researchers, and industry partners.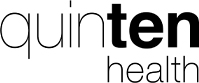 Quinten Health
The joint partnership between Pulse Infoframe and Quinten Health will provide our clients with a full suite of advanced analytics and artificial intelligence/machine learning technologies for designing and conduct real-world studies to accelerate and advance precision medicine.
QualityMetric
This partnership has the potential to transform the rare disease space by combining QualityMetric's clinical outcomes assessment scientific expertise, PRO data science, and technology with Pulse Infoframe's data science expertise and comprehensive real-world data platform for evidence generation and regulatory decision-making solution.
QualityMetric instruments will be available as part of Pulse Infoframe's Rare Central™ offering, simplifying configuration and start-up time. This globally deployed rare disease patient registry platform can integrate with many healthcare data sources, including EHR, claims, genomics, and existing registries. Its technology allows a defined data dictionary and applies the latest global data mapping standards, including OMOP and CDISC, to facilitate FDA/EMA-ready research.